MES solutIR – High-Performance Drying Systems for Fabrics and Webs – Individually Designed
Demands for higher drying speeds with consistently high or improved quality continue to grow. MES thermsol® drying systems combine infrared technology with convection drying technology in an extremely efficient manner so as to achieve optimum production results.
Do you finish, coat, print or paint products and you aim to increase your production rate while meeting a high quality standard?
We develop the drying system or combination of drying systems appropriate for your individual processes complete with the matching material transport system.
Design Dimensions of MES solut IR Drying Systems
Customized working width from 1,200 to 6,000 mm.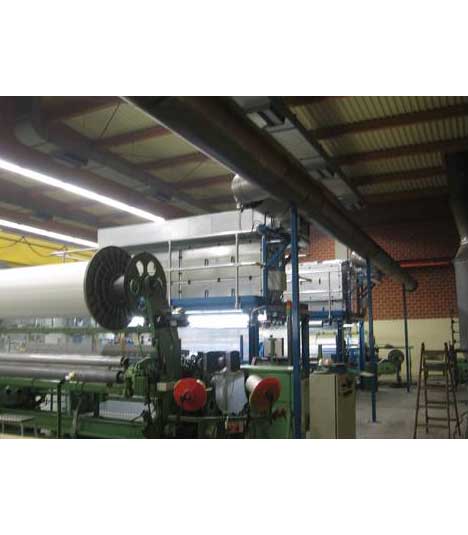 Efficient drying of threads and webs; all components have been adapted to the corresponding drying process in the following areas:
Printing
Painting
Finishing
Coating
MES solut IR drying systems are suitable for use with water-based or solvent-based dispersion agents.
Customized Continuous Flow Dryers with Drying Ducts for Yarns and Threads
Design and dimensioning specifications for continuous flow dryers for yarns and threads are subject to special criteria such as, eg:
The individual filaments are positioned close to one another and indicate a specified slag. This influences the flow of air in the drying duct. Cavities will be formed between the spaces of the filaments, which likewise will be filled with coating media. This results in different solvent diffusion rates.
MES accounts for a variety of criteria like this in the design of continuous flow dryers for yarns and threads to customer specifications eg with respect to the annual production goal.
Continuous Flow Dryer with Transverse Airflow to Threadsheet
Hot airflow in transverse direction to threadline

Higher heat transfer rates due to high inflow velocity Turbulent flow

The airflow carries the thread - low thread tension is possible

Solvent loads can only be controlled if built in segments; otherwise, time-consuming start-up and adjustment procedures for taking measurements
Textile industry:
Drying of thread and yarn coatings
MES Filament Thread Dryer
In the summer of 2011, MES GmbH has started up the operation of two drying plants for the drying of filament threads specifically developed for customer requirements for the  drying process of functionalized filament threads .
The dryers projected for the use of solvents are operated with an indirect gas heating  in a safe and economic way . A particular  compactness  has been achieved through nine passages in the dryer room.
Sliding doors have been installed for the access to the internal deflecting rollers in the area of ​​the thread inlet and outlet for a fast and effective set-up of the dryer.
Explosion protection design

Horizontal thread passage

Vertical cross-flow air guiding with air nozzles

Large circulation air volume flows for an effective drying process

Easy-operation high-temperature bearing with dry lubricating agent 

I 

maintenance-free

Control system with tough panel and 5 graphics for an intuitive operation

Safety-directed control: Performance level "d"
Thomas Steinwachs
Head of Service