Maintenance for the industry - Long-term maintenance targets will support production targets
MES is specialized in varnishing-, lamination-, printing- and finishing machinery in plastics-, packaging- and textile industry. The maintenance for these sectors of industry with a comprehensive, long-term approach is part of our core competences.
Are these requirements for maintenance sufficient for you?
Higher degree of plant reliability
Increased safety
Improved product quality
Prolonged service life of plant
Higher profitability
Or do you want to organize your maintenance even more profitable on the long run with:
Environmental and quality management
Energy saving program
Adherence to delivery dates
Risk assessment
Spare parts logistics
Choose the second option and avoid maintenance costs as well as missed sales proceeds. Long-term maintenance targets will support the production targets!
The optimum point of a maintenance strategy: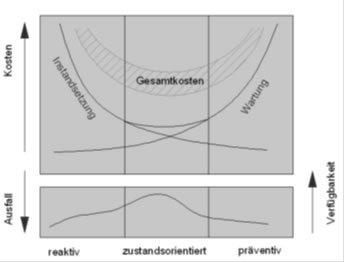 Orientation to total costs
The continuous and consequent collection and analysis of data will result in a medium- and long-term benefit by way of key figures in maintenance.
Snapshots will excessively focus on the sole cost factor.
The target must be the safeguarding of the total cost minimum in maintenance.
It is only possible to prove and further develop the value of the maintenance strategy chosen on the basis of key figures
How cost-intensive and cost-optimized the maintenance strategy chosen is, can only be reliably analysed and controlled through the introduction of the correct key figures.
If key figures are selected carefully, these will make the company structures, processes and company development transparent.
In accordance with VDI 2893, key figures are thus an indispensable component of a maintenance process. In the field, however, a set of 16 parameters is fully sufficient as a range of key figures!
The Balanced Score Card Model (BSC) can be used to generate the key figures enabling the multi-dimensional measurement of the overall maintenance performance.
Key figures can be used in maintenance for the following purposes:
Strategy planning
Budget planning and organization
Comparison of plants and facilities
Evidence for the efficiency of measures planned and implemented
The optimum maintenance strategy will always be subject to changing frame conditions:
The optimum maintenance strategy will always be positioned in the area of tension in practical operation between:
Too much or too little maintenance
Between costs and benefits
Between risky and safe operations
We recommend a product-oriented maintenance, because this way the maintenance targets will support your production targets!
Thomas Steinwachs
Head of Service